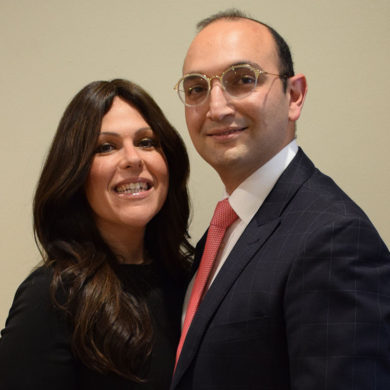 Yair and Chana Leah Matan
Kew Gardens Hills, NY
Keter Torah Award
Yair and Chana Leah Matan attended their first Bet El Dinner in 2009, and the connection has only strengthened since then. Yair was born in Israel and served in the IDF Computer Division.
He attended Baruch College in New York and earned both undergraduate and graduate degrees in finance and investments and quantitative methods and modeling, respectively. Currently, he works in the Financial Technology industry where he innovates new ways to provide financial services.
Chana Leah is a CPA and earned her undergraduate degree at Queens College in accounting and is currently employed at Apollo Global Management. She also volunteered for many years for the Queens Jewish Education Program where she provided a taste of Judaism for children who could not afford the tuition of Jewish Day Schools.
Yair and Chana Leah reside in Kew Gardens Hills, where Yair served for years as President of Kehilas Ishei Yisrael, until it moved to the Young Israel of Queens Valley (YIQV). Yair now serves on the YIQV board and Chana Leah serves on the presidium of the YIQV Women's League. Aside from their shul involvement, they are also both active in their children's elementary schools.
This past August, Yair, Chana Leah and their four children visited Bet El. Upon their visit, Yair noted that "the Bet El Yeshiva Center is in a location of crucial, strategic importance. Both the Bet Midrash Yeshiva program and the Gluck IDF Preparatory academy are doing incredible work. The Yeshiva is preparing the next generation of religious young men for leadership positions in the Rabbinate and in the business sector. The students who attend the IDF Preparatory Academy acquire a sense of mission and purpose in just a short time. "
The American Friends of the Bet El Yeshiva Center are proud to bestow the Keter Torah Award on Yair and Chana Leah Matan for their support on behalf of the Jewish institutions in Bet El.