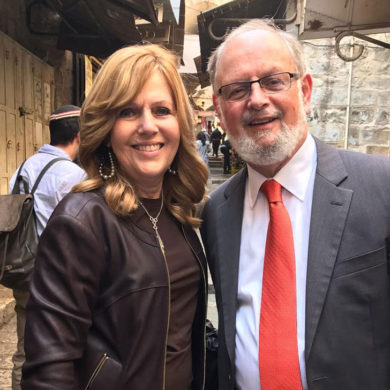 Thomas and Debbie Herman
Lawrence, NY
Shomer Eretz Yisrael Award
Thomas E. and Debbie Herman began their relationship with Bet El over twenty-five years ago when they organized a parlor meeting at their home in Manhattan Beach for Bet El Founder Yaakov "Ketzaleh" Katz.
"Ketzaleh broadcast a pure idealism for the Land of Israel that resonated strongly with my wife and me," says Tommy. "We rallied our friends to our home to meet Ketzaleh and hear about this blossoming enterprise in Judea and Samaria. We feel the same today."
Tommy graduated City University, received smicha from Rav Moshe Feinstein k"mz and, today, heads up a mobile radiology company. Debbie graduated Brooklyn College and also helps people who are sick through her work for Bikur Cholim and other organizations.
In Manhattan Beach, Tommy was very active in the synagogue and community life. Today, the Hermans live in Lawrence and attend Rav Kalish's Bais Medrash of Harborview.
"I've followed you for over two decades," Tommy adds. "You guys are doing magnificent work, especially at the Gluck IDF Preparatory Academy. Taking kids from challenged socio-economic backgrounds and imbuing them with a sense of purpose before their enlistment – this is strengthening the IDF and healing Israel society. The initially wayward students come out embracing their Judaism via choice –
this is outreach at its finest, and it's all happening in the Shomron, so our support is building the Land in the places that need it most."
The Hermans adopted a cadet in the Academy's Adopt-A-Soldier program: IDFPrepAcademy.org
The Hermans are proud to have a son and grandchildren living in Zichron Yaakov in Israel, as well as their other children who live nearby in Five Towns. They visit Eretz Yisrael several times a year. An avid bike rider, Tommy has toured Israel on two wheels from the Syrian border to Eilat with the Alyn Hospital Bikeathon.
The American Friends of Bet El Yeshiva Center is honored to bestow it Shomer Eretz Yisrael Award to Thomas and Debbie Herman for their tireless support of the people of Eretz Yisrael.